8 Reasons to Visit Branson, Missouri This Year
From the beautiful Ozark mountain scenery and easy airport access, to the sensational list of entertainment and the heart-racing rollercoasters, you and your family will want to discover "the live show capitol of the world!" Here are the top eight reasons that keep timeshare owners coming back to this Midwestern gem year after year:
Showbiz Central
With more than 35 theaters and 57,000 seats that host nearly 100 shows you'll never be short of entertainment. The sensational selection of live shows and musical acts are endless. From mystifying magic, amazing animal acts, nail-biting acrobatic performances, and knee-slapping comedy, you'll find something for everyone to enjoy.
Medley of Museums & Animal Attractions
The lists of museums are almost as impressive as Branson's shows. Discover shocking displays at Ripley's Believe It Or Not, selfie with a celebrity at the Hollywood Wax Museum, or immerse yourself in the world of early 1900's travel glamour and take a history lesson at the Titanic Museum. Don't forget to unleash your wild side at the Promised Land Zoo or get a safari experience at The National Tiger Sanctuary!
Adrenaline Seekers
Branson has a long list of attractions and theme parks for thrill seekers, whether you're looking to go 60+ miles an hour on an inverted roller coaster at Silver Dollar City, or get a bird's eye view atop the new Navy Pier Ferris Wheel (that moved all the way from Chicago!), or how about cooling off in a water park? Branson has it all!
Golf Hot Spot
With 13 golf courses, including 8 championship courses, Branson has become a top spot for golfers that entices and entertains anyone from the seasoned enthusiast to a casual novice. The lush scenery makes for a beautiful view on the courses, too!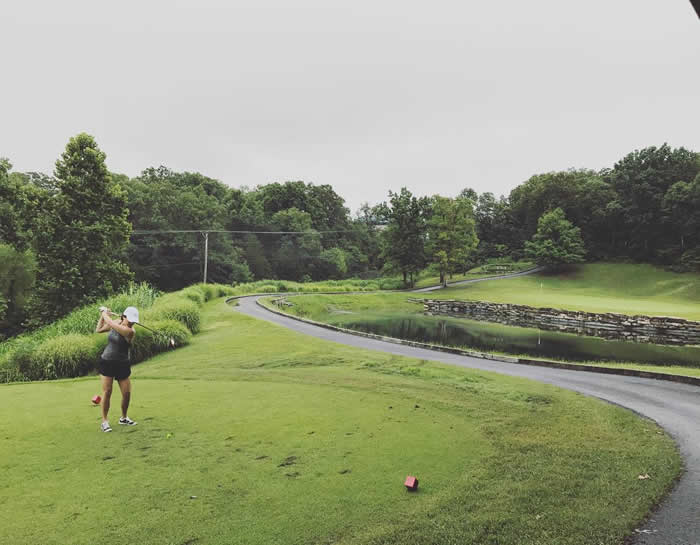 Magnificent Fountain Features
Looking for a fun, free spectacle that the whole family will enjoy? Head to Branson Landing for an incredible fountain display where at the top of every hour the fountains shoot water and fire synchronized to music. This fountain display was designed by the same team that created the famous Bellagio Las Vegas fountains, so you know you're in for a treat when you see this water show!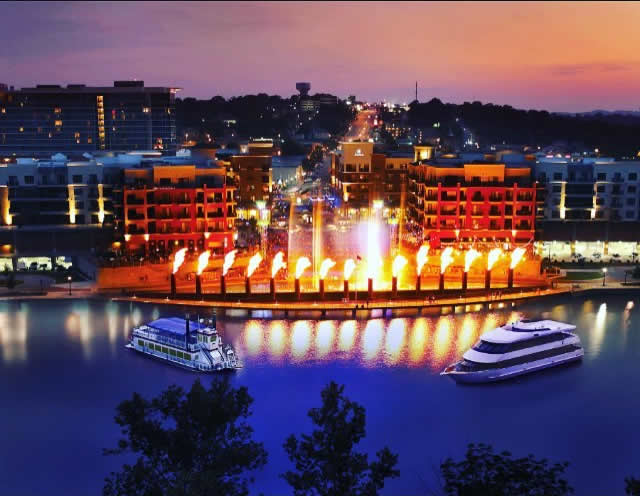 Foodie Favorite
Branson has an incredible selection of cuisine with more than 260 restaurants at your foodie fingertips. With a variety of places to suite all taste and budgets you're going to want to try a little bit of everything. From buffets and finger-licking barbecue to fine-dining and delectable desserts, it's time to indulge your inner foodie when in Branson.
Shopaholic Heaven
From its turn-of-the-century style plaza at the Grand Village and the nearby outlet mall to the Amish Country Store and selection of art galleries and antique malls, travelers are given a huge assortment of shopping possibilities. Find vintage, hand-crafted goods and the newest trendy styles all within reach in one stylish city.
ProTip: If you need a break from shopping try the Parakeet Pete's Zipline at The Branson Landing shopping area to add an adventurous flare to the day.
Explore the (Really) Great Outdoors
Branson is filled with incredible natural beauty everywhere you look. Whether you're wanting to swim, hike, fish, sail, kayak… Branson has you covered! With three lakes and dozens of miles of trails to explore, you have all types of adventure within reach. Did we mention the sunsets are stunning, too?